HITACHI AIRCON INSTALLATION & SERVICING IN SINGAPORE
We support Hitachi aircon for Hitachi aircon installation & Hitachi aircon servicing . We have more experienced & Trained experts, So we ensure to provide premium aircon installation in the Split and centralized type of aircon unit.
We provide Hitachi air conditioners such as Single split and Multi-split and Centralized Air conditioners. We support all Models and Systems for Hitachi aircon like System 1, System 2, System 3, and System 4. Hitachi is the best choice to install the aircon for commercial, home, and office spaces. It is suitable for all locations. Get a Hitachi aircon with us and make your life very modern and stylish.
STANDARD AIRCON INSTALLATION & SERVICING COMPANY IN SINGAPORE
We provide our reliable service for all clients in Singapore such as HDB/BTO, Commercial, Condominium, Landed, etc., and support of all types of aircon like split and centralized aircon units for
aircon Installation
and
aircon servicing
.
HITACHI AIRCON INSTALLATION & SERVICING

HDB/BTO 

HITACHI AIRCON INSTALLATION  & SERVICING

CONDOMINIUM 

HITACHI AIRCON INSTALLATION & SERVICING

COMMERCIAL 

HITACHI AIRCON INSTALLATION & SERVICING

LANDED 
Hitachi Aircon is one of the most mind-blowing with regards to speedy cooling as their Aircon are intended to begin at high RPMs to cut down the room temperature to the ideal level quicker. Why Hitachi aircon ? Self cleaning technology, Anti Bacterial & Antiviral , Triple Purification system , Eco Friendly system and Smart function.
We offer Hitachi aircon for all customers in Singapore, Get Hitachi aircon with us at Affordable price . 
1 Year Fan Coil 
2 Years Workmanship
5 Years Compressor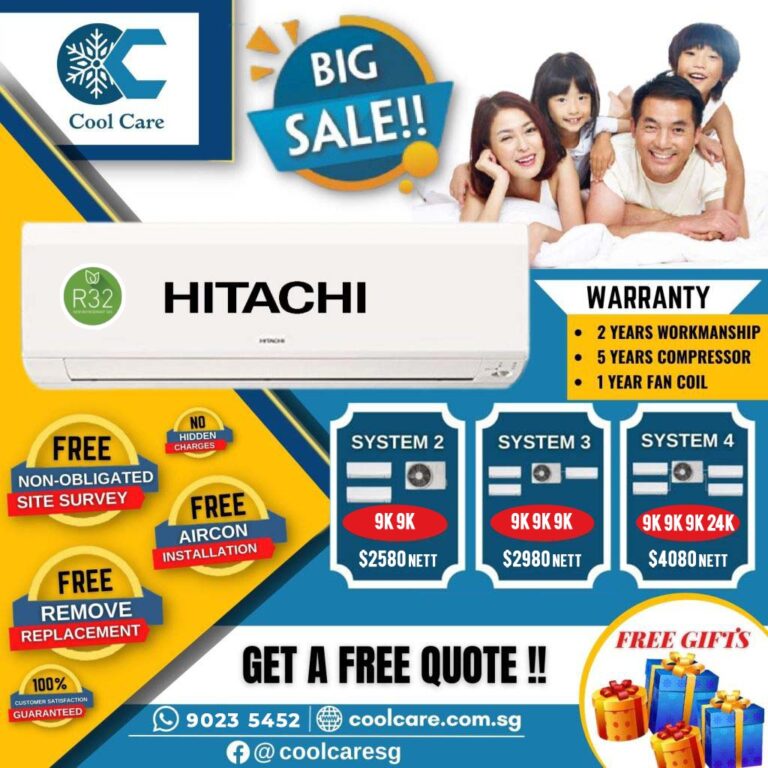 We provide all types of aircon with support for all aircon brands. We additionally more supported aircon type split and Centralized aircon all over Singapore. Cause, These two types of aircon are supported all residential and commercial in the performance is quieter.
Split aircon is suitable for all residential places. The commercial place is also considered but if the place is small. The main advantage of Split aircon is more quiet performance and its performance is Considered rapidly and firmly. It has all brands with the best new refrigerant of R32 too. So you could get the brand as per your wish in the split type of aircon. 
SPLIT AIRCON – QUIETER, ENERGY-EFFICIENT, STYLISH, EASY FUNCTION, MANY TECHNOLOGY-BASED FEATURES, WIFI, ETC., 
A centralized aircon will provide the cooling in all places evenly. It is suitable for commercial (large places). This type of aircon is placed on top of the Ceiling. The main advantage for Centralized is the automatic air purifying & filter system. So that we could avoid more dirt and dust in the aircon. Get the best brand in the type of centralized with the best refrigerant.
CENTRALIZED AIRCON – QUIETER, ENERGY-EFFICIENT, EVEN COOLING, AIR PURIFICATION SYSTEM, ETC., 
Buy Hitachi Aircon - Check Price