The air conditioner is Continuously running or high usage on  every day Should be maintained properly or has not checked the gas level. The Refrigerants gas Level will Low. Our Company provides the Best Aircon Gas top up Service to Avoid your Aircon Cooling mode troubles at a Reasonable price. This Service is more helpful to your aircon and your home for easy breathing the cool air.
Why does aircon need refrigerant? Is the aircon not cold ?
Aircon Gas top up / Refilling & Gas Leaking : Refrigerant is used in the Aircon unit to help transfer heat from the inside of your home to the outside. The refrigerant works by absorbing heat from the indoor air and then releasing that heat outdoors. This process helps to keep your home / office cool and comfortable.
Note : Without refrigerant, your air conditioner would not be able to effectively remove heat from the indoor air, and as a result, your home / office would quickly become very hot and uncomfortable.
If you think your aircon may be low on refrigerant (It needs to add the gas top up), it's important to have it checked by a professional. We have experienced technicians. Our experts properly check the Aircon unit and top off with refrigerant, so you can enjoy cool, comfortable air all season long and also prevent aircon not cold issues.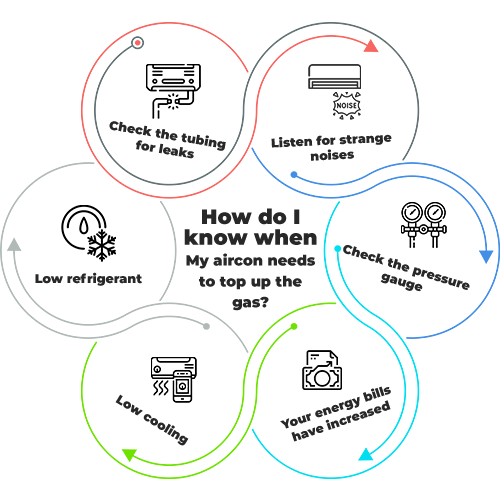 R-22 Gas - $80 to $150
R-32 Gas - $80 to $150
R-410 Gas - $80 to $150

Aircon Gas Top-up should be checked and done constantly to avoid low cooling issues and get efficient cooling. Cause  If your refrigerant is low your aircon does not allow efficient cooling. and It takes overtime to cool the place. In this issue, we could not get faster cooling and might pay the higher electricity bill.
IF YOU WANT TO AVOID LOW COOLING ISSUES? IF YOU WANT TO GET A LOWER ELECTRIC BILL?
Get professional assistance to add the gas for your aircon professionally. We offer R32, R410A, and R22 Refrigerants. So can do gas top-up based on your aircon affordably by engaging with here. 
Support all aircon brands
We provide our reliable service for all clients in Singapore such as HDB/BTO, Commercial, Condominium, Landed, etc., and support of all types of aircon like split and centralized aircon units for aircon service. So Can get your appointment with us on your decided date.
AIRCON GAS TOP-UP SINGAPORE HDB/BTO 
AIRCON GAS TOP-UP SINGAPORE CONDOMINIUM 
AIRCON GAS TOP-UP SINGAPORE COMMERCIAL 
AIRCON GAS TOP-UP SINGAPORE LANDED 
What includes in Gas Top-Up 
Checking the gas level 

Inspecting the gas pipe connection
Topping the Refrigerant gas
Check the cooling coil and filter is good
Check the aircon Cooling speed
Energy efficiency 

Faster cooling
Avoid slow cooling
Cooling the room properly

Why does your aircon need Gas Top-Up Service?
If your aircon running is prolonged without adding a gas top-up, It may reduce the amount of cooling for your aircon. The problem of low refrigerant level could be due to: 
working of overtime 

Refrigerant leak 

Poor installation 

Low quality of the copper pipe.
However, the most critical factor issues are prevented by the aircon Gas Top-up Service. After Gas top-up, you could feel the efficiency of cooling.
Why Should Hire a professional for Aircon Gas Top Up?
Low cooling

Frosting
Hissing sound
High Energy Bills
Gas leak
How do I know If my refrigerant level is low?
The technical experts easily handle the complicated service. And they will know clearly How to refill the Gas for the aircon. If you get an unskilled servicing contractor, they will not refill the Gas properly, and you may get more trouble. So you should choose the professional aircon service company for aircon gas top-up. 
Frequently asked questions
Aircon General service – Aircon chemical wash – Aircon chemical overhaul – Air con Gas topup – Aircon steam cleaning – Aircon Repair
Aircon Not cold – Aircon water leak – Aircon bad odor – Aircon noise issue – Aircon compresspr repair – Aircon Error code – Aircon light blinking – Aircon parts replacement